In March 2019, Artemis made a strategic investment into Velocity Minerals (TSX-V: VLC), a gold exploration and development company focused on eastern Europe. Proceeds from the VLC Investment are being used to fund the advancement of Velocity's flagship deposit, the Rozino gold project located in southeast Bulgaria ("Rozino") towards feasibility and permitting, including resource expansion and definition drilling, engineering studies, environmental monitoring and assessment and for general working capital purposes. The Artemis team sees many opportunistic characteristics in the Rozino project that are similar to Atlantic Gold's producing Moose River Consolidated Mine ("MRC").
Artemis Equity Ownership & Rights
19% ownership of VLC issued & outstanding shares
39% ownership on a partially diluted basis with conversion of Convertible Debenture
The ability to nominate up to 2 directors depending on ownership level
Pro rata participation rights in equity securities offerings as long as Artemis owns 10% or more of Velocity
Velocity Highlights
70% interest in the Rozino project and an option to earn 70% in multiple deposits in Bulgaria.
Partnered with an established private Bulgarian miner (Gorubso) thus gaining access to an existing permitted carbon-in-leach (CIL) processing plant.
Goal to build a production profile of >100,000 ounces per year, sustainable over 10 years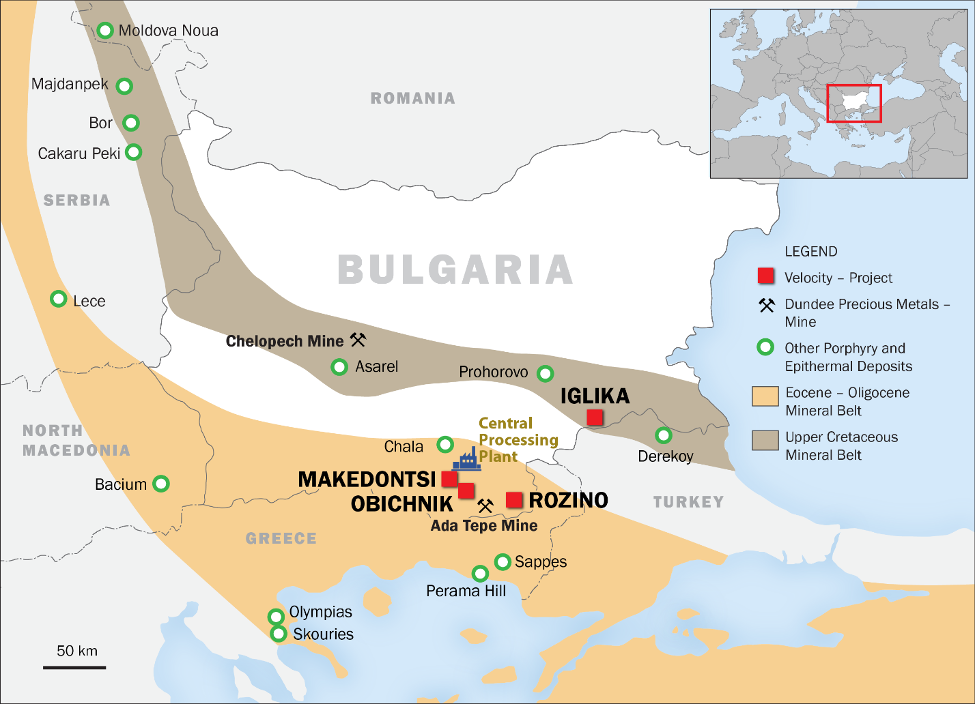 Rozino Project Highlights
Velocity's most advanced deposit
AISC1 of ~US$550-650/oz, Rozino PEA2 After Tax NPV5 of US$129m, 33% IRR (At US$1,500/oz, after tax NPV5 of C$207m, 46% IRR)
Low initial capex
Low strip ratio deposit with a 1.51 g/t Au LoM gold grade
Resource expansion potential at existing deposits
Simple metallurgy and conventional processing methods
Upside to resources at Rozino with recent drilling
Potential for multiple open pits which could be treated through a central milling facility
An under-explored gold belt, with little if any modern gold exploration
Located in Bulgaria, an attractive destination for mining investment with low mining royalties and an exceptionally low corporate tax rate of 10%.
(1) All In Sustaining Cost (AISC) is defined as all cash costs related to mining and processing to final product. It includes on-mine and off-mine costs (direct and indirect). Sustaining capital costs related to continuing the business including exploration, development and equipment required to sustain production are included. Taxes, working capital, M&A, disposals and acquisitions as well as new mine development capital costs are excluded. Taxes, working capital, M&A, disposals and acquisitions as well as new mine development capital costs are excluded. AISC is an industry financial measure that has no definition under Canadian GAAP. (2) Base case parameters assume a gold price of US$1,250/ounce and an exchange rate (CAD$ to US$) of 0.75. All amounts are reported in Canadian dollars unless otherwise specified. Financial results on 100% equity basis.
As a result, AISC cannot be compared between companies or individual operations.
Rozino Inferred Mineral Resource Estimate
Cut-off Grade
(g/t Au)
Inferred Mineral Resource Estimate
Tonnes (Mt)
Gold Grade (g/t)
Gold Metal (koz)
0.2
50
0.59
948
0.5
17
1.17
639
0.6
13
1.37
573
0.7
9.7
1.57
490
Effective date September 10, 2018.
Mineral resources are not mineral reserves and do not have demonstrated economic viability.
The mineral resource has been estimated in accordance with the Canadian Institute of Mining, Metallurgy and Petroleum "CIM Definition Standards for Mineral Resources and Mineral Reserves" (CIM, 2014).
2019 Work Program
The 2019 drill program at Rozino commenced in March 2019 with a total of about 12,000m of drilling completed, which includes exploration drilling to expand the resource base as well as resource definition and infill drilling. Through the drill program, Velocity aims to convert the existing Inferred Resources to Measured and Indicated Resources, as such terms are defined by NI 43-101. The drill program is also intended to support additional metallurgical and comminution studies as well as hydrogeological and geotechnical work, all of which will be carried out in parallel. Environmental data collection is ongoing and will continue. VLC plans to complete an additional 1,000m of drilling regionally to begin testing structural targets, located close to the Rozino deposit. It is anticipated that discoveries within several kilometers of the Rozino deposit could potentially add value by utilizing common infrastructure. The above work is being completed in contemplation of a pre-feasibility study, estimated by Velocity to be published in Q2 2020.
NI 43-101 Technical Report - Preliminary Economic Assessment
All scientific and technical information herein related to Velocity Minerals Ltd. ("Velocity" or "VLC") has been reviewed and approved by prepared by Stuart Mills, a qualified person for the purposes of National Instrument 43-101 Standards of Disclosure for Mineral Projects.